Transcription
From KCHR
The initiative envisages transcribing and proofreading of rare books, diaries, letters and communications etc. of historical relevance with a view to digitally conserve and share them for academic research. We invite the voluntary participation of all interested people across the globe to transcribe and proof read these volumes. On completion, KCHR will publish these documents digitally. In the first Phase we plan to transcribe the diaries of Eliamma Matthen. KCHR is happy to offer an incentive (Rs.30/- per page of 2400 characters with space for transcription and Rs. 18/- per page for proofreading) as a token of our appreciation to girl students (Students up to Master's level), physically challenged persons, housewives and retired persons for their effort in the project. All voluntary efforts will be acknowledged in a fitting manner in the website.
Transcription of Diaries of Eliamma Matthen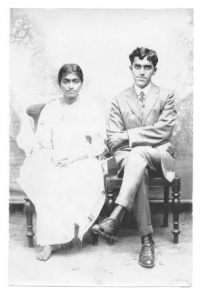 Eliamma Matthen (1894-1952) was the wife of Chalakuzhy Paulose Matthen (1890-1960), a pioneer banker in the princely state of Travancore. He was the founder-director of the Quilon Bank, which merged with the Travancore National Bank in 1937 to form the Travancore National and Quilon Bank of which he became the Managing Director. The bank was liquidated in 1939, by C.P. RamaswamyIyer, the Diwan of Travancore. C.P. Matthen and the then Bank Chairman, K.C. Mammen Mappillai, were imprisoned in Thiruvananthapuram in 1939, the latter was released in 1941, the former in 1942. After Independence, C.P. Matthen became a Member of Parliament and India's Ambassador to Sudan.
There are ten volumes of diaries written by Eliamma Matthen. They are written in English in hard bound note books of varying sizes. They cover the period from 2nd May 1938 to 12th April 1942. The notes in the diaries throw light on the socio-political life of Travancore in the 1930s and 1940s. The first volume has verses from the Bible and similar inspirational material from other religious texts. The personal references are few and far between. From the second volume onwards the diaries turn intensely 'personal' recording of her feelings, thoughts, hopes, fears and opinions.
These volumes portray how circumstances transform a wife and mother into an influential personality. Her deep engagement with the turbulent days in the life of her family gives an unmediated account of many aspects of those times. The information they overtly and covertly carry will be of interest to a wide range of students and others interested in the history of Travancore as well as gender and cultural studies.

( KCHR thanks Eliamma Thomas and Mariam Ram for contributing the personal papers of Mrs Eliamma Matthen to KCHR. We express our gratitude to other members of the family led by Omana Eappen for providing the photographs and information. We thank N Ram for suggesting KCHR as a home for these papers)