A Typical Day of 93 years old P. Parameswaran Nair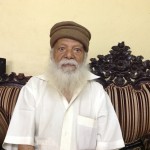 P Parameswaran Nair of 'Thejas', Prasanth Nagar is 93 and yet robust. He sports a round cap over his otherwise bald head and a long flowing white beard. He was born as the eldest of five sons to a Brahmin father and a Nair mother who was his second wife. PP himself belongs to the Nair caste according to the then-prevalent matriarchy. His hometown is Perunthanny which is near Shangumukham. He married Radha, of prominent Nair family at the age of 14 when he was 24. His wife passed away almost a decade back. He has outlived the youngest two of his five sons. He was a journalist (proof reader) in Kerala Janatha which was owned by Pattom Thaanu Pillai (first CM of Thirukochi). Later on, following his resignation from there, he operated and published his own daily and magazine. They are no longer in print but old copies are not in his possession nor he has any idea where they are available. He said it may be found in SCT Library, Vanchiyoor. He still owns several presses which are now run by his sons. He also owns several landed properties in Ulloor and said has three houses in the Prasanth Nagar.
A Typical Day (First person account)
I wake up around 6AM, out of sheer habit. Firstly, I just sit up on the bed for a while pondering on the day ahead. Then after brushing and morning ablutions, tea is served. Then I embark on a walk, which typically lasts about half an hour since I can no longer walk for too long on account of feeling giddy. I walk only through busy roads so that in case I feel giddy, there is help nearby. The main aim of my walk now a day is to have tea at the tea stall in the junction. I interact with a lot of people during my walk. It is just normal chit-chat.
The walk is followed by breakfast is a normal Malayalee affair. For example, idly with sambar and chutney was the breakfast yesterday.
Reading as a habit has been impaired by the advancing visual impairment. I used to read news paper (Mathrubhumi) daily. I was also part of a group that met for reading the Ramayana in the colony. I was active up until a decade back. I am not religious in terms of being ritualistic. I simply pray for a good life and occasionally visit temples, that's it.
I am insistent that I should have my lunch dot at 1 in the afternoon. I have no real restrictions in what I eat. I love ullitheeyal. The ulli should be fried till it turns red. It is my absolute favourite. I also love moru and sambar. My daughter in law is the one who cooks for me after my wife passed away. I have never done any sort of household chores (says with an unmistakable hint of pride).
The lunch is followed by a nap that lasts a couple of hours. When I wake up I have a cup of tea and sometimes with a kadi like vada to boot.
I have very good memories of Pattom Thaanu Pillai as I had a good relationship with him. Pattom was a lion of a man (Singam). I don't think Kerala has seen as astute an administrator as him. He was a very brave man too. (He repeated the word Singam meaning Lion) I clearly remember this one instance back from when there was the land acquisition issue when the states were being formed. There was a tiff between Tamilians and there was a shooting incident near his ancestral house in Tamil Nadu. There was a death threat against Pattom in TN. But Pattom was not to be fazed. He wanted to go to his ancestral home (which was in the said problem region). He asked me to come along. Madhavan Pillai, who was his driver, brought the car around (a Standard). Pattom sat at the back and I sat in the front along with Madhavan Pillai. Pattom was not one to speak much during the journey. There was a lot of people gathered around his house. But Pattom was not fazed. He got out and majestically walked right through them, into the house situated 6 furlongs away, where a sumptuous meal replete with tender coconut was ready. In his press too lunch was usually brought from Hotel Xavier in horse chariot and 1PM sharp we used to serve him lunch brought in shining lunch boxes. He always sat on the floor to eat. There was an Oonu Palaka for him and we all ate sitting in the floor. Pattom really was a lion of a man.
The magazine I owned and operated – Naradar – was primarily and unabashedly a gossip magazine. We used to make up juicy bits about everyone. And that sold a lot of copies, because people love gossip as they do even now. People love reading such things about others. A lot of fights have happened because of what we wrote in the magazine. In fact, even gundas were used.
I had one writer in particular – Ezhukon Shivashankaran – who was particularly skilled at writing such puff pieces. In fact, I discontinued the magazine a few years back largely influenced by his death.
Coming back to my typical day. After an evening walk, I have dinner by 7PM. I do not have rice for dinner. Rice is limited to just the lunch time. Dinner is akin to the breakfast. So when you see the breakfast, you know what dinner is going to be that day. Today for example, breakfast was idiyappam, so dinner too will be the same. I watch some TV while eating. I like to watch the serial "Maha Ganapathy".
My wife was an only daughter. Her father was an interesting man in the sense that he was handpicked by the king – His Highness Sree Mulam Thirunal – to be his bodyguard. He was known as Pachu Pillai. He had an unmistakable air of bravado, an impossible moustache and an ever present thalekettu. The King saw him on the street as he was passing by and later sent a four horse chariot to take him to the Palace for mukhamkaanikkal. A four horse ride was an unprecedented honor for a non-royal person.
I don't have much recollection of when my marriage was. I think I was 24 and wife was 14. I had seen several girls upto that point, but none of them felt right. But with her it was different and I felt that I had to marry her. Wife's family, with the exception of her mother was against the marriage because there were rumours abound to the tune of my communist leanings and my rowdy nature.
I have no vices of note – I never drank or smoked. The secret to my health is discipline.
Compiled by PJC(Jr)