A day from a life spent in Palayam Market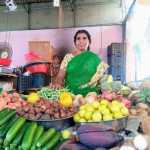 10 February 2020.
I am Ambika. My life has always been inside the Palayam Connemara Market in Trivandrum, Kerala, selling vegetables. I was barely four or five years old when my mother brought me here to help her. Now I am 52– that makes it nearly five decades. As it looks to me today, my future is also here – where else can it be?
My shop is open every single day – it is only on the rare days of Hartal (strike) that I stay home. So every day's routine is the same. My day starts at 5 o'clock in the morning when I get up and by 5.30 I would be out of the house on my way to the temples nearby. It would only be a little after 6 when I reach my shop. I may take a tea with a vada on the way. You have to come quite inside the market to get to my shop – it is on the way to the fish stalls. Earlier I had to brave the hot sun and rains while keeping my wares out in the open, but about three years ago, the shops here got roofs made of asbestos sheets. What a relief that was! See, now I have even got a small table fan inside. I get my vegetables from local vendors who purchase it from wholesale markets like Chalai and bring here. I have never sourced directly from the wholesale dealers.
I am the middle one among three sisters. I do not have any remembrance of our father. Our mother brought us up, but there was no way that I could have the privilege of going to school. I somehow manage to write down details about my sales and can calculate money but reading is difficult.
My shop is in the exact spot where I used to help my mother with her wares. As a young girl, I would sit with a big kutta (wooden wired basket) full of vegetables. In those days there was some rule against sitting there and the Police would frequently come to chase us away. I would clutch my basket and run, but a little later, once the mayhem subsided, go right back. Both my sisters were married off and then, at age 28 which was considered 'late', I too got married. My mother had passed away by that time. The marriage lasted less than three months. In fact, I escaped from what was a torturous situation. I have never again even considered the idea of marriage. We sisters share a close bond. My elder sister has two sons and my younger sister two daughters. I consider them as my children. We all stay together at Valiasala, in a house that we built in a plot of one and a half cents.Yes, I do have a room of my own. Earlier we lived in rented houses at many locations. I am told that my mother's family hails from Pattom. My elder sister and her husband are both ailing now. Though my younger sister and husband work as daily-wage labourers, they do not earn enough. I support them all financially. I have no savings and no assets in my own name.
Suji, who sometimes gives me a hand at the shop, had come here as a young boy. He works as a driver but on some days would come to the shop by 10 o'clock. If he turns up, then I can hand over the shop to him and go home for two or three hours. I may eat something, sleep for a while, have my lunch and come back by 2pm. On the days when he does not come, I would just continue in the shop till 2pm without any break and then go home for lunch. I would just leave the shop as it is and go. Once I am back, I stay in the shop till 9 in the night, taking just a tea in between from the tea-vendor who passes by. After winding up for the day, I reach home, take a bath, have dinner and it is bedtime by 10. I don't have to bother about cooking – my sisters would keep something for me. Dinner is rice and curries mostly and sometimes other dishes. Watching TV? – where is the time? I may take a look while eating if the TV is on. I do not go out anywhere other than to the temples every morning.
Sale at my shop is very dull these days. The entire market is quiet. See, there are vegetable shops at every nook and corner of the city now. Where is the need for people to come to Palayam market as before? Many times I find it difficult even to pay my dealers and have to be in debt. I am very scared of getting into debts. What a hectic and busy place the market used to be! I would be on my feet throughout the day catering to one customer after another. On Sundays, my wares will be sold out by the afternoon and I would be able to take the rest of the day off. I used to go for short trips with my nephews and nieces, perhaps to a distant temple. Those days are gone. Now, with sales so low, I don't dare take even a day off and am constantly at the shop.
The competition is very tough and it is not a very friendly atmosphere in the market. Sometimes I can hear women in the shops nearby passing vicious comments. Being a single lady brings with it its own problems. So I keep mostly to myself and do not even talk to many people. And no, I do not have a mobile phone.
My legs hurt all the time, maybe because I am standing so much during the day. I get frequent headaches too. But I am very reluctant to go and see a doctor. My sisters are always scolding me about this. They tell me to get myself examined but I won't – what if they find out some problem in, say, my blood? My only wish is that I should earn enough to provide for the people who are dependent on me. I must be able to buy my sister's medicines regularly. My greatest wish these days is that my eldest nephew should be able to start working – he was good at studies and we sent him to Russia with great difficulty for a medical education. But he is yet to clear the examination required to get his license to practice in India. I do not have any other dreams for the future. I never think of myself, only about the family. I do not expect them to help me during my old age either. I just want them to live their lives. Yes, it is true that my life has been a toil without rest since the age of four or five – but it is ok; I do not wish for rest either.
Compiled by: Jaya G Nair