A day in the life of a waste-collector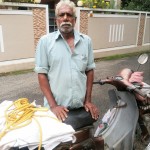 23 August 2019
My name is N Shahul Hameed. I have become an old man now – 72 years. I make my living by collecting waste materials from houses and selling at shops that accept them. Yes, a dealer of akri – the word in Malayalam for all kinds of waste-materials. I have been an 'akri-man' for more than 35 years now.
I stay at Shastri Nagar (West) in Karamana, Thiruvananthapuram. But that is not where I was born. My native place is near Killi in Kattakkada, about 20 km away. Some of my brothers still live there. My father was a daily-wage worker (coolie). I came to Karamana after my marriage, as my wife hails from there. In fact, I was initiated into my current work by my brothers-in-law who were already in the business. Before that I used to work as a daily-wage labourer, doing all kinds of work – carrying loads, agricultural field work – you name it, I have done that. See, I could study only upto 9th standard, and even while at school I used to go for daily-wage works.
I got married at age 30. My wife Khadeeja is a house-wife. She and I still live in the house I built 30 years ago in the two cents of land that I had bought. You can't call it a 'house' – it is just a hut. We have two sons and one daughter, all married and living near us but not with us. We have six grandchildren too – five boys and one girl. My son and one daughter work as daily-wage labourers. No, none of them are in the business of 'akri'.
I get up usually around 6 o'clock. Every day is a working day for me. Only if I am not well or there is an important family function that I have to attend do I ever take a break. There is nothing like Saturday or Sunday as holiday; in fact it is on weekends and holidays that I can hope to make a little more money. I take only a cup of tea before leaving the house. My Bajaj M80 two-wheeler is my constant companion. By 7.30am I would be in the streets making rounds in my bike, looking for any house that has waste materials to give me. Around 10 o'clock I take a break and have breakfast from a restaurant nearby, wherever I happen to be at that time.
I collect only paper, glass or metal wastes. I do have certain policies – I make sure that the collected materials are given only at the designated shops. I would only go to houses which I feel ok about. If someone makes any untoward comments or criticisms, I would never again go there. This is so about the people who interact with me too.
The akri-business can mean good money – I do know of many people who became rich dealing in big-quantity wastes. One has to bid for and obtain contracts to collect wastes from factories or offices. It needs investment of a lot of money as capital as well as big vehicles for transportation. I cannot even dream about such things. I cannot afford a bigger vehicle like petti-auto for transport either. I have to make do with my bike.
I make my rounds of houses in Karamana and nearby areas of Poojappura, PTP Nagar, Thirumala and even go upto Sasthamangalam and Vellayambalam. There is no restriction on areas among akri-collectors. One may go anywhere. The collected materials are loaded onto my bike. I sell these regularly at a shop in PTP Nagar. I can do two 'loads' every day, but business is hard these days. It is seldom that I get even one full load. There are also days when I go home empty handed. Earlier there were very few shops that dealt with waste-materials. I remember that at the time when I started there was only one such shop and it was in Chalai. So people used to depend on us to collect waste from their homes. There were days when I would get upto 100kg as a single load, and I used to do two such loads a day! Now there are so many akri-shops all around. Three such shops are there in Poojappura itself! Hence many people take their waste to these shops directly, avoiding us. This has made business very dull for people like me.
I do my rounds upto 4pm. I do not stop for lunch in between, but may take one or two cups of teas from road-side vendors. Lunch is always at home, but only after finishing my work for the day. Usually I sell off my collections at the shop on the same day. If the shop is closed or some issue like a hartal suddenly happens, then I won't be able to dispose of my bundles. I then keep them near the shop or at home overnight.
Once my work is over, I return home and have my lunch. Lunch is always rice and curries. Sometimes there would be boiled tapioca also. Fish curry is there on most days. Though I love meat, only rarely can we afford it. I buy chicken or mutton home once every five or six months. I may eat mutton curry from restaurants every two or three months. On perunnals (festivals) like Ramzan I do get mutton to cook at home.
After lunch I take rest for some time and soon it will be 5pm, my time for going to the mosque at Karamana. I go there every day and come back only by 8.30pm. I do three/ four namaz (prayers) and spend the time in-between talking to people in the mosque. I have many friends who come there every day – they are all small-time merchants or daily-wage workers – no one else is in the akri-business as me.
Once back home, I have dinner – mostly again rice and curries but sometimes my wife would make something else – like dosa, puttu or appam. Since I do not eat breakfast at home, I don't think my wife prepares anything for herself in the morning. She may eat any left-overs from dinner or take leftover rice as gruel (pazham kanji).
I go to sleep by 9pm. No TV viewing or any other entertainment. In fact the TV set is not working – I think it is some years since it broke down. My wife is also not much interested in watching TV. We do not go out either – other than visiting my son's or daughters' houses or attending family functions. Last Sunday we had gone for the house-warming ceremony of my son's house at Vattiyoorkavu. Oh it is quite a small house – built in one cent of land. My wife and I do not ever go to the beach or to watch films etc. I may have watched a few films long back in my youth.
I do have some health problems – I am asthmatic and now-a-days have numbness in my hands and knees. My wife had TB earlier, now she is better but not quite well.
What do I think of life? One has to keep at it till it is time to go. I know I have to keep on working. Yes, I know my children love us but they also have their expenses, don't they? They have to take care of their kids. I don't expect them to give me money. Let them look after their families. In fact, I try to give them money whenever I can.
Am I happy with life? I don't know. What is it to be happy? There is no point in thinking about such matters. Things are going on somehow. So long as one is healthy, one need not depend on anybody else. That is all.
Compiled by: Jaya G Nair